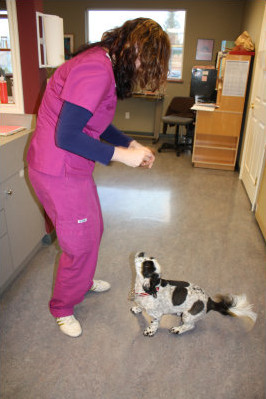 Deidre- Head Registered Animal Health Technologist
Dree was born and raised in the Comox Valley. In 2002 she left home to study the Animal Health Technology Program (AHT) offered at Fairview College Campus in Fairview Alberta.
After graduating with honours in 2004, Dree returned to her beloved valley, where shortly thereafter she was hired at Puntledge Vet Clinic. Dree worked alongside Brenda Russell, the head technologist at Puntledge for 15 years,  honing her skills as an AHT with Brenda as her mentor. In 2010 Brenda semi-retired from the industry, and since then Dree has strived to maintain the quality of nursing care and dedication always provided to patients at Puntledge Veterinary Clinic.
Dree has two cats; RJ and Two Toes Nelson, both of these lovely boys Dree adopted from the clinic. RJ was born at the clinic when a stray pregnant cat was found in an abandoned house. Toes was surrendered to the clinic after suffering a serious injury to his paw. Without Dree's care and attention he would surely have been euthanized. Dree was strictly a feline fancier until 2013, when an adorable dachshund waddled into the clinic and into her heart. It was true love at first sight, and Babs became the first canine member of her forever family.